Purpose of Program
This program includes 6 sub-options, listed below.
SY-A-A - Enter/Change Company Interface Company infoTAB
SY-A-B - Enter/Change Invoicing Defaults Invoice Defaults TAB
SY-A-C - Enter/Change A/P P/O Defaults PO Defaults TAB
SY-A-D - Enter/Change Checking Accounts Checking Account TAB
SY-A-E - Supplemental Settings TAB
You will be entering Company information as part of your initial setup of Advanced Accounting 7. Be sure to see Getting Started for a general background on entering information in these four sub-options.
General Program Operation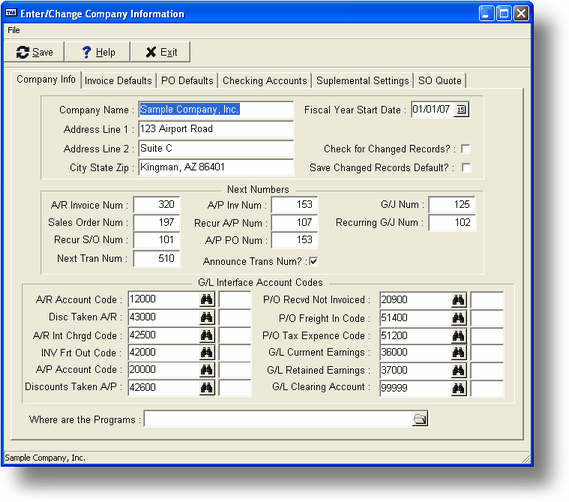 When you run this program the above is displayed. Choose the appropriate option tab. Press the exit button to exit the program.
You must save the changes made before exiting from the program. Press the save button to save any changes made. The following dialog box will be displayed:
Enter Y or click on the Yes button. You can then click on the Exit button or press the ESC key to exit the program.
---
Page url: http://www.cassoftware.com.com/adv7docs/index.html?sy_a_enterchangecompanyin.htm