Purpose of Program
Use this option to enter certain values not handled in the other options.
Field Descriptions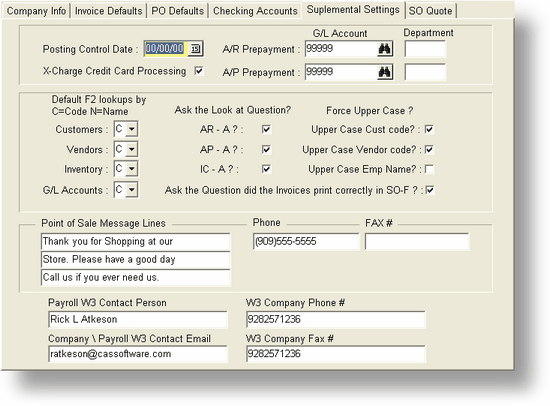 Control Date
This will keep the user from posting anything to a date prior to this.
X-Charge Credit card processing
If this is Checked it will turn on credit card processing for both the AR-C Enter payments in accounts receivables and Point of sale entry. For more information on how you can take credit cards in advanced accounting powered by CAS. Please give us a call at (928)257-1236 and we can help you get this setup. If your not going to use this feature this should be unchecked. See also: Point of sale configuration setup for payment setup in POS.
A/P Prepayments
The G/L account used to hold pre-payments recorded in AP-B - Enter/Change Vouchers, and PO-D - Receive Purchase Orders.
A/R Prepayments
Not used at the current time.
Default F2 Look-ups
These four options Vendors, Customers, G/L Codes and Inventory control which index is the default when the records are displayed in a F2 lookup. The other indexes are still available, this just defines the default. You may choose either N (names) or C (codes).
Ask the "look at" Question? (Read Only - Edit)
For the programs AP-A - Enter/Change Vendors, AR-A - Enter/Change Customers and IC-A - Enter/Change Inventory you can optionally choose to just look at the records, precluding any changes. If you choose to do this the records will not be locked and will not keep anyone else from also using that same record in a Sales Order, Purchase Order, etc, where it would normally be locked for at least some of the time. If you answer Y to these options then a dialog box similar to that below will be displayed when you first run the program:
If you enter click on the Edit button (or choose the Read-Only just press the ENTER key) then when you search for the record it will not be locked and you will not be able to make changes to any of the fields, including deleting the record.
If you enter N for these options, the dialog box above will never be displayed.

This only applies for multi-user installations. If you are running a single-user installation you should answer N to these options since the records are not locked anyway.
Force Upper Case Name
If you enter Y here the Vendor Name, Customer Name and Employee Name and Address will be forced to upper case. The purpose for this is to make searching on these fields easier. Since the index is stored exactly the same way you enter it you must search for the record, when using that index, the same way. Since this can cause problems, this option has been added.
Point of Sale Message Lines
These will print on the bottom of the POS receipt.
Your Phone Number
The company phone number. Will print on P/Os as appropriate.
Your Fax Number
The company fax number. Will print on P/Os as appropriate.
Payroll W3 Contact person
Payroll W3 Contact Email
Payroll W3 Company Phone
payroll W3 Fax
This information will be read into the W2 W3 print programs.
---
Page url: http://www.cassoftware.com.com/adv7docs/index.html?sy_a_e_enterchangesuppleme.htm