Purpose of Program
Use this program to print a listing of the InstantChecks printed in ICHK-A.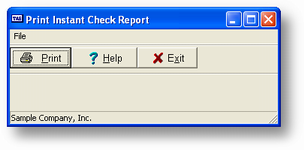 General Program Operation
This program has no entry routines other than the standard printing options.
After the printing is complete, the program will return you to the main menu. A sample report is in Appendix F.
---
Page url: http://www.cassoftware.com.com/adv7docs/index.html?b_instantcheckreport.htm