Purpose of Program
Use this program to enter print checks for those vendors who require payment on delivery.
Field Explanations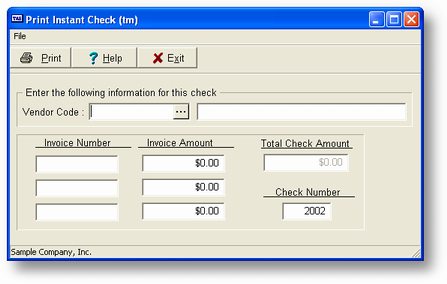 Vendor
The Vendor Code and Name field. The Name field is automatically filled in when you enter the Vendor Code.
Inv Number
Up to 3 invoices may be entered at one time. Enter the appropriate invoice number here.
Inv Amount
Enter the appropriate invoice amounts here.
Tot Amt
The total amount of all invoices entered. This is calculated automatically.
Chk Num
The next check number. This is retrieved from the checking account for A/P as specified in SY-A-D - Enter/Change Checking Accounts.
General Program Operation
The first step is to choose the appropriate vendor. You can do this by:
a.

Enter the full Vendor Code at the

Vendor Code

field and press ENTER.
c.

Use the list display option to choose from a list of vendors. For more information about lookup lists see

Lookup Lists

.
After the vendor has been chosen press the ENTER key and the vendor name should be displayed to the right of the code. The cursor will not be in the Inv Number field. You may enter up to 3 separate invoices on a single check. Enter the Inv Number first and then the appropriate Amount.
When you have entered all the invoices press just the ENTER key in a blank Inv Number field or, after the third, the program will automatically move to the Chk Num field. This should default automatically to the next check number and should be changed ONLY IF the number on the check you're going to print will be different.
Press ENTER again and the following message will be displayed:

Enter Y or click on the Yes button if you're ready to print the check. After the check is printed the program will ask if the check was printed properly: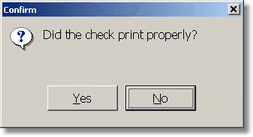 If you don't enter Y or click on the Yes button here the InstantCheck will NOT be saved properly.
After you answer the above dialog box the program will return to the entry screen ready for another check. Press ESC to exit to the main menu.

It is not uncommon to leave this program running on a computer all day in situations where InstantChecks are a normal process.

Post InstantChecks entered in this program using AP-B - Enter/Change Vouchers.
---
Page url: http://www.cassoftware.com.com/adv7docs/index.html?a_enterinstantchecks.htm