What This Package Contains
Please take a few minutes to make sure you received everything necessary to successfully run Advanced Accounting 7. This package should contain the following items:
Advanced Accounting 7 Manual
Advanced Accounting 7 Installation CD or the Advsetup.exe program that you may have downloaded from our website at www.cassoftware.com
The Multi-user (LAN) version of Advanced Accounting 7 is included and is automatically installed.
What You Need
To install and run Advanced Accounting 7 you will need:
| | |
| --- | --- |
| · | An IBM-PC compatible (PIII or newer recommended). |
| | |
| --- | --- |
| · | A monitor with a minimum resolution of 800 x 600. |

It is strongly recommended that you set your monitor resolution to 1024 x 768 or higher.
| | |
| --- | --- |
| · | A minimum of 32MB (32,000,000 bytes) of RAM memory installed on the machine. |
| | |
| --- | --- |
| · | One CD ROM drive and one fixed hard disk drive with at least 50MB of storage space available. |
| | |
| --- | --- |
| · | Windows 98/98SE/NT/2000/ME/XP/VISTA. |

Advanced Accounting 7 DOES NOT work with Windows 95 due to some of the serial port access and fax routines. You must have Windows 98 or newer.

We highly recommend that you have an email address available or someone else's that you can use. Support is available at no additional charge (see Support Information) via email and, we can generally be reached outside of normal business hours. Also, if you have access to the Internet, updates to Advanced Accounting 7 will be posted on our web site and can be downloaded 24/7. If you have avoided email and the Internet due to lack of need, now is the time to sign up. If you have any questions please don't hesitate to contact us. There will even be a version of Advanced Accounting in the future that will run on the Internet directly.
The Advanced Accounting 7 Disk Packet
The Disk Packet contains your license to the product and a single CD ROM.
You may also download a copy of Advanced Accounting 7 from the Computer Accounting Solutions web site (www.cassoftware.com). If so, it is recommended that you save the file to your desktop and then start the installation process from there.

The full use license will be sent via email from Computer Accounting Solutions or, if you don't have email, will be sent on a separate floppy disk. In either case, you will copy the file (SUWIN6.DCY) to the same subdirectory where you install Advanced Accounting 7.
Installing Advanced Accounting 7
If you are upgrading from any earlier version of Advanced Accounting: This version of Advanced Accounting must be installed in a different subdirectory. None of your current programs or data will be changed. You can go back to the older version any time you wish.

Any data entered into the new (Advanced Accounting 7) version will not be reflected in an older version you have currently installed.

MULTI-USER INSTALLATIONS: If you have any earlier version of Advanced Accounting installed, be sure that no other users try to use that existing accounting package when you are converting your data.
1.

Insert CD-ROM disk into your CD-ROM drive or, if you wish, download a copy of Advanced Accounting 7 from the Computer Accounting Solutions, Inc web site (

www.cassoftware.com

).
2.

If you are installing from a CD-ROM disk

: The startup process should begin automatically and the startup screen below will be displayed. If it isn't, click on your My Computer icon on your desktop, then your CD-ROM drive icon (might say Compact Disk, or have a CD-ROM as the icon). Then double click on SETUP.EXE. This will start the installation process.
If you are installing from a downloaded copy of Advanced Accounting 7: Double click on the icon that's named ADV7SETUP.EXE. You should get a dialog box that looks something like the following:
You will see a dialog box welcoming you to Advanced Accounting 7 powered by CAS. These are standard instructions, just follow as you would for any other Windows program.
Click on the next button. The next dialog box contains the license for Advanced Accounting 7powered by CAS. Please read it carefully. If you click the Next button you have accepted the license and have agreed to be bound by it. Software License Agreement is displayed below.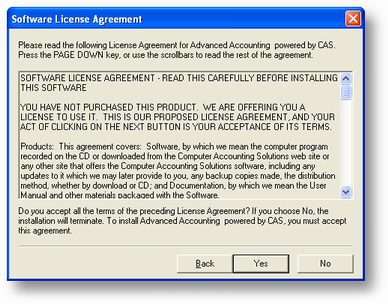 If you agree with the terms of use for this program click the Yes button if not click No and the program will stop
the install.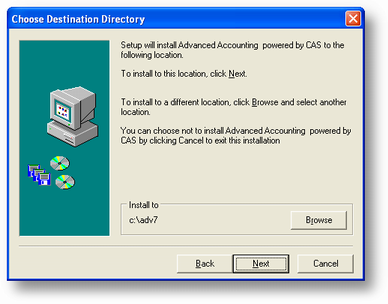 Next you will be asked for the folder (subdirectory) where Advanced Accounting 7 should be installed. Please read the section below that applies to you before choosing a directory:
If you are upgrading from an earlier version: You MUST specify a directory other than the directory in which your existing accounting package is currently installed. If you specify the same directory as the old package, some or all of your existing accounting data may be lost. When you click on the Next button after choosing the subdirectory the installation program should tell you that the subdirectory doesn't exist. If that message is not displayed you should carefully consider changing the Current Folder value to one that doesn't exist.
If this is a new installation (you are not upgrading from an earlier version): You may specify any drive and directory. If that directory does not already exist, it will be created for you. Make sure you don't specify a directory that is already being used for something else.
If you wish to change the subdirectory or folder offered, click in the entry box that displays the subdirectory name. You may enter a new subdirectory name or click on the Browse button and choose one from the list presented.

If the location you specified already exists, you will be warned that it exists and asked if you wish to continue. Proceeding with the installation to this location may overwrite existing Advanced Accounting program and data files in that location.
If the location doesn't exist, you will also be warned and asked if you want to create the new subdirectory.
In either case you must enter Y or click on the Yes button to continue with the installation process.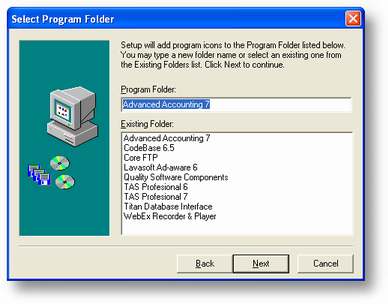 You will next be asked for a Windows folder name. This is the name that will show up if you click on the Start->Programs button. A list of existing folders is also displayed. Normally you would just accept the default value. Click Next.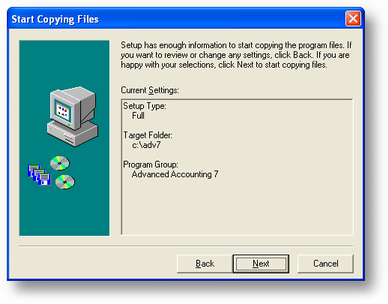 Next the dialog box above will be displayed. When you click the next button here the program will display the next screen. A dialog box with an overview of all the choices you have made will be displayed. If everything is correct then click the Next button.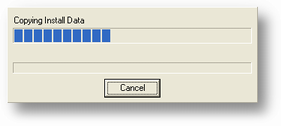 | | |
| --- | --- |
| . | The programs will be installed and the progress will be displayed. Generally this will take just a few moments. At the end a dialog box will be displayed saying that everything was installed properly. Click on the OK button and the installation process will end. |
Your installation of Advanced Accounting 7 is now complete.
You should try running Advanced Accounting 7 now to make sure you are getting proper access to the system.

The first screen that appears is the license screen. Initially you will see the demonstration license. If you have not received a full license please contact us via email at support@cassoftware.com or call us at 928-257-1236.
If you need to set up other computers on your network to run Advanced Accounting 7, please see the information below.
---
Page url: http://www.cassoftware.com.com/adv7docs/index.html?secondtopic.htm