Welcome to the Advanced Accounting 7 Accounting System. We are proud to introduce you to the first easy to use, realistically priced, modifiable accounting package designed specifically to meet the needs of the small business. Written by experienced business people with an expert knowledge of how computers can enhance the business management environment, Advanced Accounting 7 provides you with the features to handle your present accounting needs and the flexibility to accommodate your company's future growth.
Advanced Accounting 7 is a complete double entry, accrual-based accounting system by itself, but it also is part of a integrated family of Computer Accounting Solutions products designed to improve your productivity. These products let you grow with your Advanced Accounting 7 system.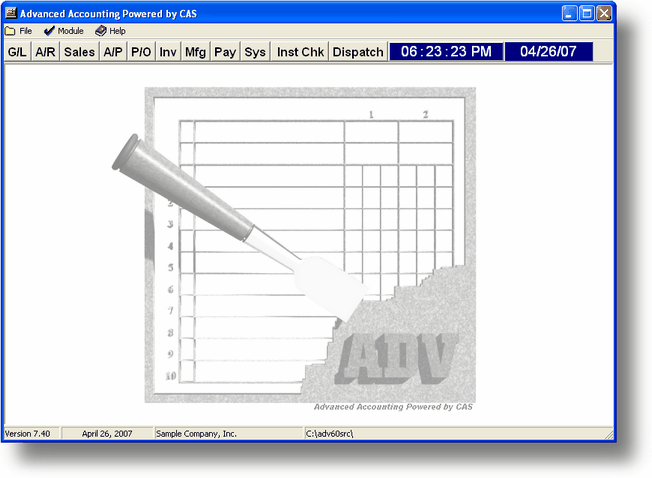 OPTIONAL, NOT INCLUDED:
TAS Professional Application Development System
One of the keys to the versatility of the Advanced Accounting 7 accounting system is that it was created using the TAS Professional 7 application development system. This powerful 4th generation language and relational database includes both a source code editor and program generator. You can create entry screens or entire applications that can work in conjunction with Advanced Accounting 7. If you purchase both TAS Professional 7 and the source code for Advanced Accounting 7 you can customize Advanced Accounting 7 itself. If you need modifications to the system and you do not have the programming background Computer Accounting Solutions can make any needed changes you might need giving you a truly scalable solution for your business. To get more information on TAS Professional visit our website at

Advanced Accounting 7 Source Code
With Advanced Accounting 7 Source Code, you can use the TAS Professional source code editor to modify Advanced Accounting 7 to suit the requirements of any business environment. This powerful combination gives you the capability to modify Advanced Accounting 7 screens, menus, and programs so that you can create the exact environment you want to see in your accounting system, or have Advanced Accounting 7 fit in seamlessly with your other business applications.
Advanced Accounting 7 Screen/Report Editor
This program gives you the capability to change the DFM (GUI Screens) and RTM (Report) forms. Many changes can be made without ever changing the source code, such as colors, fonts, even where the fields display on the screen or report. Add logos to your reports. In many cases you can remove fields that aren't used in your company, etc. This product requires no programming and is as easy to use as a word processor.

At release the Advanced Accounting 7 Screen/Report Editor was not yet available. For more information please contact Computer Accounting Solutions.
For more information above any of the above products please contact your dealer/developer or Computer Accounting Solutions directly.
We think you'll agree Advanced Accounting 7 is one of the finest accounting products on the market, and we hope you'll enjoy using it as much as we enjoyed creating it for you.
Please write or email and tell us what you think; your comments are always welcome. We'll do our best to use your ideas in our future releases. Thank you again for purchasing Advanced Accounting 7. We hope Computer Accounting Solutions products and services will continue to meet your needs for many years to come.
Computer Accounting Solutions.
2736 Colorado
Kingman AZ, 86401
P. 928-257-1236
Web: www.cassoftware.com
Email: support@cassoftware.com
---
Page url: http://www.cassoftware.com.com/adv7docs/index.html?welcometopic.htm