Purpose of Program
Use this program to print the Vendor address, contact, and telephone information on Rolodex cards.
You can obtain these forms from the authorized CAS forms supplier. For more information please call: 1-800-358-4222 or 1-928-257-1236.
General Program Operation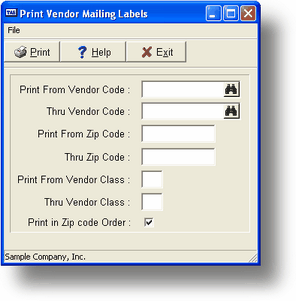 Enter a range of vendor codes and/or classes to print when the screen above is displayed. You may limit the report to any continuous group of vendors. If you do not enter limits, the program will print Rolodex cards for all vendors.
You may also choose to print just those vendors whose information is new or has been changed. To print information about just the changed/new vendors, type a C at the appropriate entry field. To print all vendors within your limit choices above, type A.
After the printing is complete, the program will return to the main menu.
---
Page url: http://www.cassoftware.com.com/adv7docs/index.html?l_printvendorrolodex.htm