Purpose of Program
Use this program to print vendor address information on mailing labels. You have your choice of printing on several different label types. See Standard Label Options for more information.
General Program Operation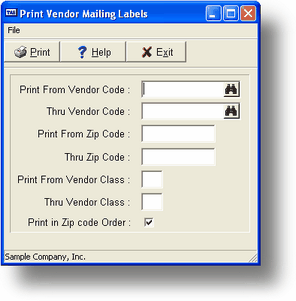 You may enter a range of vendor codes, vendor classes, and/or ZIP Codes on the screen displayed above. You may limit the report to any continuous group of vendors or ZIP Codes. If you do not enter limits, the program will print labels for all vendors. Next the label type menu is displayed (see Standard Label Options).
You may also choose to print the labels in ZIP Code order. If you enter N when asked if you want them printed in ZIP Code order, the labels will be printed in vendor code order.
After the printing is complete, the program returns you to the main menu.
---
Page url: http://www.cassoftware.com.com/adv7docs/index.html?k_printvendormaillabels.htm