In most cases, when you're printing labels, the following option screen will be displayed: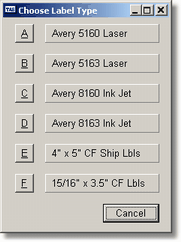 By clicking on the appropriate box you will choose what type of label to print. The only difference between the Avery Laser and Ink Jet labels are that when you choose Ink Jet the program will ask you to select a label to start with.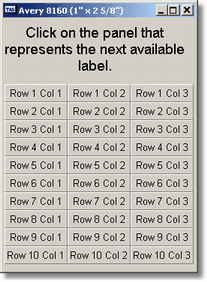 For example, if you choose C - Avery 8160 Ink Jet the display box above will be displayed. Click on the button that represents the first label to print and the program will start with that label. This will allow you to use the same label form multiple times until all the labels on the form are used.

Avery will tell you that they don't recommend reusing label forms more than once. In the case of Laser forms, that's probably correct since the labels become soft when heated and can easily peel off the page on to your laser printer parts and are very difficult to remove. However, in the case of an Ink Jet printer, that's not the case. And, when you might be printing just a few labels at a time, it can become very wasteful when there's 30 labels on the page.
If you choose the Laser labels (A or B) the where to start option above will not be displayed.
The last two labels are of continuous feed type. The first is a standard shipping type label that is available from many different suppliers and the second is the standard mailing labels that are also available everywhere.
Using the Advanced Accounting 7 Screen/Report editor you are able to modify the label to fit just about any option you wish. And, in the future, as customers ask for different label sizes, we intend to add those to this choice screen.
---
Page url: http://www.cassoftware.com.com/adv7docs/index.html?standardlabeloptions.htm