Purpose of Program
Use this program to print bar code labels for items in your inventory. In POS-J - POS Configuration Maintenance you can choose to have items looked up by the bar code key instead of the product code when running POS-A - Run POS Register. In all other programs that use the standard Inventory lookup, you will be able to choose the bar code key during the lookup process.
General Program Operation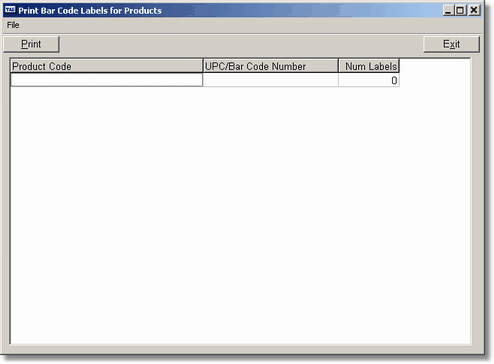 When you choose this program the screen above is displayed. For each product you want labels to print you will enter a line in the grid.
Press the ENTER key to start editing the row. An ellipsis button will appear at the end of the Product Code column. You may enter the product code directly, if you know the code, or click on the button or press the F2 key to get a list of existing products. Choose the appropriate product and press the ENTER key.
If there is a UPC number on file for that item it will show up in the UPC column. If not, you may enter this value directly.
The last step is to enter the number of labels you wish to print. You must enter something in this column.
Before you may enter a new row all three values must be entered.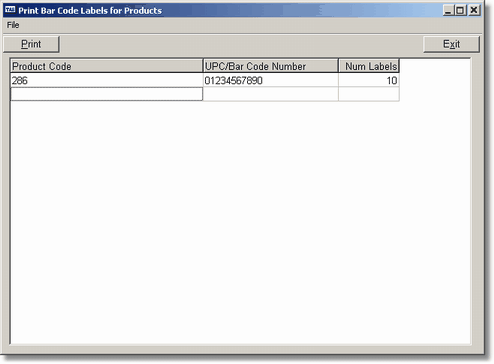 After you have entered all the appropriate items, press the F10 key or click on the Print button.
The program will ask the standard printing questions. After you have made your choices the labels will be printed.

This is still a work in progress. At this time the program prints UPC-A codes only on Avery 5160 labels.
---
Page url: http://www.cassoftware.com.com/adv7docs/index.html?ic_n_printbarcodelabels.htm