Purpose of Program
This program will print the invoices/vouchers in the A/P check register on blank stub continuous feed dot matrix or laser printer check forms. You must set the system to print to one or the other in SY-A-D, Enter/Chg Checking Accounts.
You should run the AP-E, Print Pro-forma Chk Reg program before running this program, to make sure that all the entries are correct.
Check forms are available from the authorized CAS forms supplier. For more information call: 1-800-358-4222 or 1-928-257-1236. Also, more information about forms is in Appendix E.
General Program Operation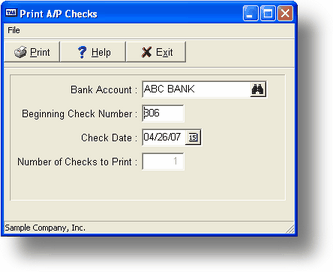 When you run this program, the screen above is displayed. The displayed bank account is the one selected in AP-E, Print Pro-forma Chk Reg. If you have not already printed the pro-forma check register, you can do so at this time.
You can change the beginning check number; this field defaults to the value in SY-A-D, Checking Accounts. The check date will default to the current date, but you are allowed to change it.
The value of Print on Laser Checks will tell you what type of check form the program is setup for (SY-A-D, Checking Accounts), and the number of checks to print is also displayed.
After all the checks have printed, the program will ask if they printed correctly.
If you answer Y to this question,the invoices or vouchers are then posted. When you post an A/P invoice or voucher, the credit and invoice balances are updated in the Vendor file, the A/P check register is emptied, the check transactions post to the General Ledger and the Cash Disbursements Journal, the checks are added to the G/L check register file (to be reconciled with the bank statement), and the next check number is updated in SY-A-D, Enter/Change Checking Accounts.
If you are not ready to post the transactions, or if anything went wrong with the printing, do not answer Y when asked if the checks printed correctly. Once you answer Y, you cannot change any of the entries.
Answer N if you want to run the checks again or if you want to make changes using AP-D, Pick Vouch/Inv to Pay.
After the printing and posting are complete, you are returned to the main menu.
---
Page url: http://www.cassoftware.com.com/adv7docs/index.html?f_printchecks.htm