Tendering A Dispatch
Dispatches are tendered in the "Sales Order" program. From the main menu select "Accounts Receivable" and then item "A" to enter the sales order program.
There is a lengthy discussion of the "Sales Order " program elsewhere in this manual so we will only look at the procedure for transferring a dispatch here.
From the "Main Menu" select "Sales" Menu item Sales order then Item "A".
The program should now look like the screen below.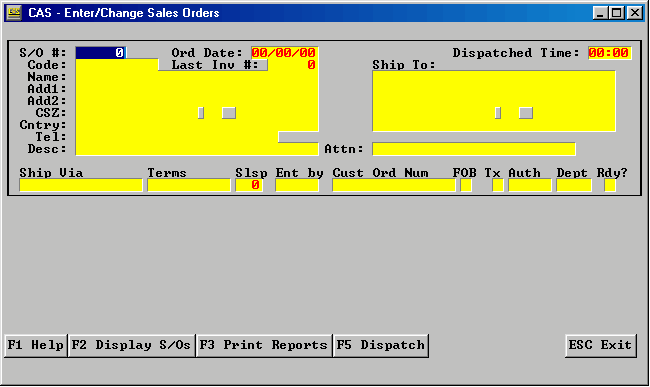 Notice that the "Sales Order" program is in the "S/O#" field when the program starts. Press "F5 Find Dispatch" for a list of dispatches that have been both finished and posted.
A "Choose Dispatch List" will pop up.

Notice that the "F3 Choose Other Key" and the "F4 List full screen" features are available.
The "keys" that are available are "Date", "Service Call", "Customer Code" and "Customer Name."
Select a service call to tender and press the enter key.
The dispatch is transferred to the "Sales Order" and the program asks: "Do you want to tender this dispatch as a sales order?" Answer "Yes" and then continue as if it were a normal sales order.
Please refer to the detailed directions on sales orders elsewhere in this manual to complete the tendering process.
---
Page url: http://www.cassoftware.com.com/adv7docs/index.html?tenderingadispatch.htm