Purpose of Program
Use this program to delete paid A/R vouchers/invoices and A/P vouchers/payables. This program will not affect the G/L Chart of Accounts. The purge process completes many tasks at once:
· Deletes paid records in the A/R Transaction file
· Deletes old A/R vouchers
· Deletes paid records in the A/P Transaction file
· Deletes old A/P vouchers
Please make sure that you have printed all necessary reports before running this program. Once you have cleared paid A/P and A/R transactions you will no longer be able to get an As of Date aging that covers the dates purged.
This program clears only completely processed data (posted, paid-in-full, etc.) Once this program is run you cannot recover the data deleted. MAKE A COMPLETE BACKUP PRIOR TO RUNNING THIS PROGRAM. See Appendix D, Important Times, for a general summary of month end operations.

WE STRONGLY RECOMMEND THAT YOU DO NOT DELETE PAID A/R AND A/P TRANSACTIONS - this deletes potentially valuable information and eradicates your ability to ever do an 'as of date' balance analysis. Call support for further information.
General Program Operation
When this program is run the screen below is displayed.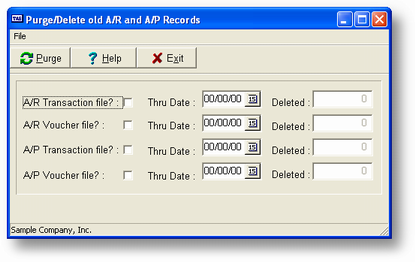 If you have printed all the reports desired and have made a COMPLETE data file backup (copy all .B and .B+Company Code Extension files to a floppy disk), then continue.
You can specify the date for each file. The date displayed for each line is the latest date for a record in that particular file. If you want you can change that date to one earlier and the program will purge only through the date entered.
If you don't want to purge any records from that particular file then enter N for the first entry for that line.
After you have made the appropriate entries for each line the program will ask you to confirm the entries. If you enter Y then the program will start to delete records as appropriate. As the records are purged the number deleted will be displayed in the # Deleted column giving you a constant guide to what's going on.

DO NOT INTERRUPT THIS PROCESS. IF YOU DO YOU MUST RESTORE ALL DATA FILES FROM YOUR BACKUP.
---
Page url: http://www.cassoftware.com.com/adv7docs/index.html?sy_n_purgeoldaraprec.htm