Purpose of Program
Use this program at the end of the year to update all yearly amounts. Year End Routines performs many tasks at once:
| | |
| --- | --- |
| · | Moves the Current Amounts to the 1 Year Past Amounts |
| | |
| --- | --- |
| · | Shifts 1, 2, 3, 4 and 5 years past down one |
| | |
| --- | --- |
| · | Deletes the 6 Year Past Amounts in the General Ledger |
| | |
| --- | --- |
| · | Updates the beginning balances in all Asset, Liability and Owners Equity (including Retained Earnings) accounts |
| | |
| --- | --- |
| · | Clears year to date sales and purchase information in the Customer, Vendor and Inventory files. |
| | |
| --- | --- |
| · | Clears the beginning balances in all Income and Expense accounts |
Please make sure that you have printed all reports necessary before you run this program. Once it is run you cannot recover the data. MAKE A COMPLETE BACKUP OF ALL *.B?? FILES PRIOR TO RUNNING THIS PROGRAM. *.B?? files are all data files with .B or .B+Company Code extensions. For more information on filenames and wildcard specifications, see your DOS manual. Appendix D, Important Times, discusses end of year procedures.
You may want to use the SY-H Multi-Company maintenance program before you run the year end to make a copy of your data to look back on later.

In prior versions of Advanced Accounting you were given an opportunity to delete the G/L Transaction file at this time. We have removed this from this program. In almost all cases you will still have transactions to enter after your year end is over. Once the G/L Transaction file is cleared you will no longer be able to get a detailed list of all transactions for that year. Since you shouldn't clear this file until you have all transactions completed for the year we have removed this option. You can easily accomplish this by running SY-J, Reclose Prior Years, and answer Y to the Clear G/L Transaction file question in that program.
General Program Operation
Several screens of information are displayed when you run this program. You should read each and every one and you must answer Yes to each question or the program won't continue.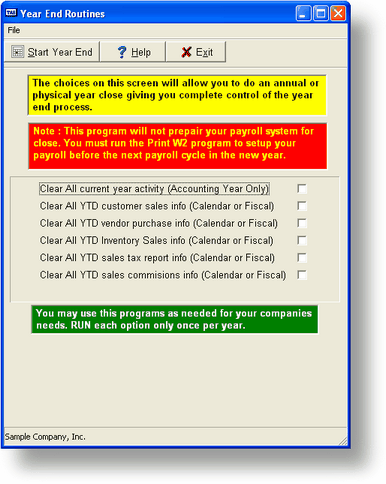 After several information screens about this process the above screen is displayed. to start the year end process click the start year end button.
Choose the options you want to run. The program is built to be able to run at both Fiscal year and Calendar year close.
For example your fiscal year start date is in March you can close the Accounting year in March but have the other options run a calendar year Jan thru Dec. then in January you would choose all options except for first option. Each option should only be run once per year!!. This program gives you full control of the year end process. Both Calendar year and Fiscal Year.
Please note that as part of the year-end routines, the grand total of the monthly entries for Current Earnings is added to the existing balance in the Retained Earnings account to calculate the new beginning balance for Retained Earnings (shown under the Current column).
Note: This program will not prepare your payoll close. This process is always a Calendar year process and is controlled by the print W2 program in payroll.

DO NOT INTERRUPT THIS PROCESS. IF YOU DO YOU MUST RESTORE ALL DATA FILES FROM YOUR BACKUP.
---
Page url: http://www.cassoftware.com.com/adv7docs/index.html?sy_k_yearendroutines.htm