Purpose of Program
Form 940 is a payroll form submitted to the Federal government once a year. The form includes information about FUTA (Federal Unemployment Taxes) and SUTA (State Unemployment Taxes). The information for this form comes from the year's payroll data. If you have not been running payroll for the entire year you will need to supplement the information which appears on the screen with your prior totals.

You should run this program prior to running either of the W-2 programs. The W-2 programs clear the payroll data completely.
Field Explanations
The fields on this screen correspond directly with your 940 form. Use the Part title (for example Part I, Part II, etc.), along with the letter or number in front of each line to find the related line on the actual form. Refer to the back of the form for an explanation of each line.
General Program Operation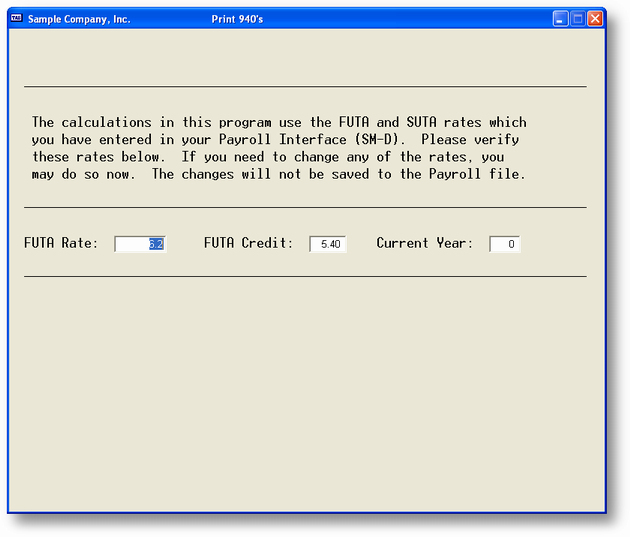 When you run this program you are first asked to verify the rates to be used. The screen below is what you'll see. If the rates displayed are correct, you can simply press ENTER. If they are not correct, enter new percentages. If you want to permanently change the rate for payroll, use SY-D, Enter/Change Payroll Interface.
Once you verify the rates the main screen is displayed.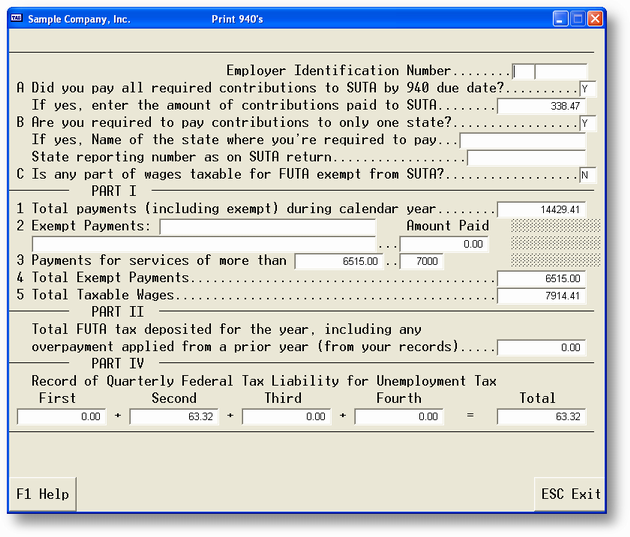 The program uses the payroll data in your system to calculate the appropriate amounts. You will have an opportunity to change these amounts as necessary, and to supply additional information that was created prior to starting this system.
Note that Part V, Computation of Tentative Credit, only applies if you enter N to questions A or B, or enter Y to question C. If any of these are true, the following screen is displayed.
Printing the Form
When you have completed the entire form, you will be asked if your entries are correct. If they are, you can proceed to print the form. If not, you will have an opportunity to edit them.
You are given the choice of printing to the screen, printer or a disk file. Please note, however, that this report is designed to be printed on the printer, with portions in condensed print (16+ chrs per inch). The screen option is provided strictly for your review. You may print this form as often as desired.
---
Page url: http://www.cassoftware.com.com/adv7docs/index.html?spr_c_form940employers.htm