In tandem with the automatic backorder updating in the sales order entry program, Advanced Accounting provides this program to print a list of items currently on backorder. You can sort this report by shipping date to make it easier to see at a glance all products that are due to ship, or sort by product code to indicate how much of each product is backordered at one time.
General Program Operation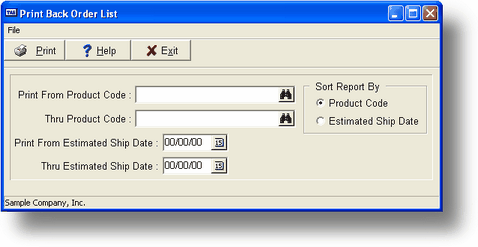 When you run this program, the screen above is displayed. Enter limits in the Product Code or Est Ship Date fields to narrow the scope of the report, or leave those fields blank to print all products and dates.
You can group items on this report by product code or shipping date.
When printing is complete, you are returned to the main menu. An example of this report is provided in Appendix F.
---
Page url: http://www.cassoftware.com.com/adv7docs/index.html?so_d_printbackorderlist.htm