Purpose of Program
Packing slips are provided as a convenience in Advanced Accounting 7 for a reference when you or your shipping personnel stage and fill orders, prior to getting the actual printed invoice for delivery. The packing slips show the quantity ordered, the quantity available to ship and any backordered quantities. Space is also provided for freight and insurance charges.
General Program Operation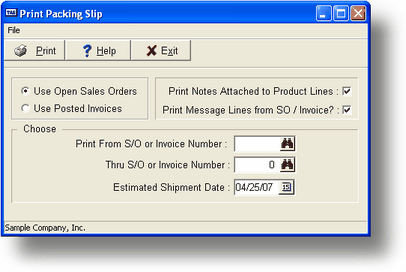 When you run this program, the screen above is displayed. Your first option is to choose to print from open sales orders (S) or the invoice history file (I). You can limit the packing slips printed to as few as one sales order/invoice. If you do not enter limits, the program will print packing slips for all open sales orders/invoices. You can also exclude notes and message lines from the packing slip by entering N at the appropriate locations. And, finally, you have the option of printing more than one copy.
When printing is complete, you are returned to the main menu. An example of this report is provided in Appendix F..
---
Page url: http://www.cassoftware.com.com/adv7docs/index.html?so_c_printpackingslips.htm