Purpose of Program
Use this program to look up lay-a-way's, complete sales, cancel lay-a-way's, look at aging, and see which products in inventory are on lay-a-way.
General Program Operation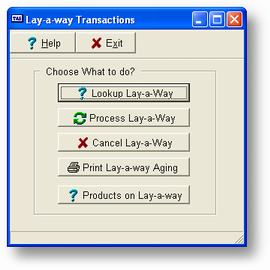 Choose this option and the menu above will be displayed. The menu items here are the same as those covered earlier in this manual under "Lay-a-way Sales" in the section Other Options Available from POS-A, Run POS Register. Please refer to that information for details on the operation of these programs.
---
Page url: http://www.cassoftware.com.com/adv7docs/index.html?pos_i_lay_a_waytransactions.htm