Purpose of Program
This program will reprint the P/Os that were created in PO-A, and originally printed in PO-B.
Pre-printed forms are available. For more information on pre-printed forms see Appendix E - Pre-printed Forms.
General Program Operation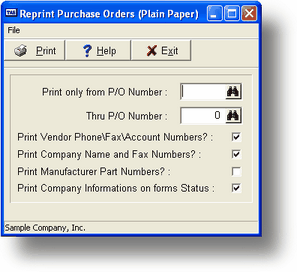 When this program is chosen from the menu, the screen above will appear.
The program then lets you enter the starting and ending P/O number values to limit the printout. If you do not enter any limits, all previously entered P/O's still in the file will be reprinted.

The P/O must have been printed previously to be reprinted. Also, any P/O that is still in the file can be reprinted.
If Print Vendor phone/fax/Acct numbers is checked then the vendor information will print on the P/O.
If Print Company phone/fax numbers is checked then your information will print on the P/O.
If Print Mfg Part Numbers is checked, then the vendor's part numbers for the items you've ordered will be used instead of yours.
The program will return you automatically to the main menu when printing is complete.
---
Page url: http://www.cassoftware.com.com/adv7docs/index.html?po_g_reprintpo.htm