This report is a useful detailed summary for the requested inventory items. The report includes all of the general information entered on the inventory screen in IC-A, Enter/Chg Inventory: Product Code, Description, Product Type, Unit of Measure, Category, Class, Tax status, Reorder Level, Reorder Amount, dates for Last Order, Last Receipt, Last Sale, and the accounts used for Sales, COGS, and Assets, the Manufacturer's Code, Price, Price Matrix number, Last Cost, Average Cost, and Total Value (at all locations).
General Program Operation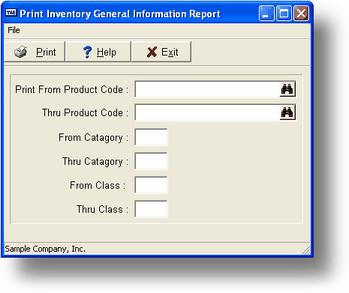 You may enter ranges for From/Thru Product Codes, From/Thru Category, and/or From/Thru Class. For example, you can limit the printout to HRDW only. If you do not enter limits, the program will print all the inventory items. A sample report is provided in Appendix F.
---
Page url: http://www.cassoftware.com.com/adv7docs/index.html?ic_f_printgeneralinfo.htm