Purpose of Program
Use this program on a regular basis to post the recurring items entered in GL-M, Enter Recurring G/J Trans. You can limit the posting to as few as one type of transaction, depending on your earlier choice of Selection Code for the transaction.
General Program Operation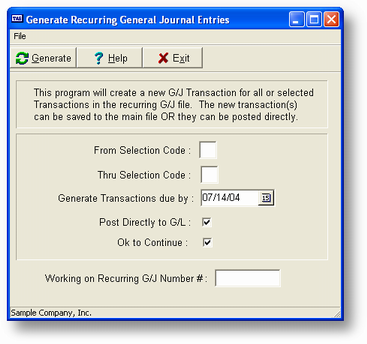 When the screen above is displayed, you can limit the posting to a single type of transaction by using the From/Thru Selection Code fields. You can generate and post transactions before their scheduled date by setting the Generate Transactions due by date into the future.
If you choose to Post Directly to G/L, the transactions are posted to the General Ledger and the General Journal at the time you run the program. However, if you want to generate dated transactions but delay posting until the end of the day, or if you want to print and post the transactions along with your regular G/J transactions, choose N in that field. The transactions are then transferred to the main transaction file and you can decide when to print and post them.
The OK to Continue field allows you either to proceed with the program or to return to the main menu.
---
Page url: http://www.cassoftware.com.com/adv7docs/index.html?gl_n_generaterecurringgj.htm