Purpose of Program
This program parallels GL-D, Print Journals. However, instead of printing by Journal type, this program will print in Account Code order. Using the reports generated by this program and the previous one provides you with a complete audit trail. By following the transactions from this report to the individual posting journal, you can see the entire results of any transaction. In this report you can see all the transactions for a single account; in the appropriate journal you can see each transaction as a whole.
General Program Operation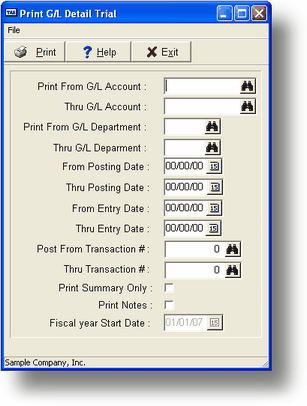 The screen above is displayed when you run Print Detailed Trial Balance. You may enter From/Thru G/L Account, From/To G/L Department, From/Thru Posting Dates, From/Thru Transaction Numbers, and From/Thru Transaction Codes to specify a range to print out. You may limit the report to one account, one department, one day, or one transaction (if you wish) by using the same information in the From and To fields. If you do not enter any limits, the program will report on all of the transactions in the file. A Detailed Trial Balance may be printed any number of times until the G/L Transaction file is cleared during SY-I, Year End Routines or SY-J, Reclose Prior Year.

CAUTION - Make sure you print all posting reports before clearing the G/L Transaction file. Once it is cleared, you cannot recover the information.
If you enter a value in From Posting Date, then when you press ENTER in Thru Posting Date, the following message is displayed, with the From Posting Date entry as the displayed date.
Do you want to summarize all transactions prior to 03/01/95 into a balance forward line? [Y/N] Y
If you answer Y to this question, the detail is printed for transactions subsequent to the displayed date, and prior transactions are printed as a lump sum balance.
If you answer N, the detail is printed for all dates.
If you answer N to Print Summary Only? then every transaction for the ranges you specified will be printed. If you answer Y then a single line with the total of all transactions for each G/L Account will be printed.
If you answer Y to Print notes? any notes attached to the transaction will also print. The default is N.
A sample report is provided in Appendix F.
---
Page url: http://www.cassoftware.com.com/adv7docs/index.html?gl_e_printdetailedtrialba.htm