Purpose of Program
This option will update the programs in the File Manager after you have unzipped an update received from Computer Accounting Solutions.
General Program Operation
When an update is downloaded from the CAS website you should save it to your desk top. Then, when the download is finished, click the Open button. This will execute the self-extracting zip file that is contained within the download. You will be able to specify the receiving path. Make sure you specify the same path where you installed Advanced Accounting 7.

You must exit out of Advanced Accounting 7 before you unzip the update.
When the unzip process is complete, restart Advanced Accounting 7 by clicking on the Main Menu icon. From a standard menu setup this option is in SYS->File Utilities->J - Update File Manager. You can also choose the Run TAS Program and enter the file name: TASFMGRAUTOUPDATE.RWN. After you make the menu choice the following screen will be displayed: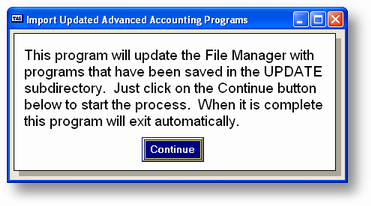 Click on the Continue button and the files will be updated automatically. When the process is complete the program will display the appropriate dialog box.

If you have not unzipped the update file into the correct subdirectory the program will display a dialog box stating that there are no file to update.
After the process is complete the program exits automatically.
---
Page url: http://www.cassoftware.com.com/adv7docs/index.html?fl_j_updatefilemanager.htm