Purpose of Program
This program will allow you to choose a file and fields to be exported to 6 different non-TAS file types.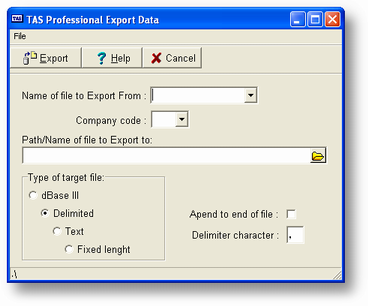 General Program Operations
a) Enter the File name and extension of the file you wish to export. You can get a list of available files and descriptions by clicking the dropdown. These file names are drawn from the subdirectory where your data dictionary is located (usually \ADV7).
The Choose the path/Name to export to. Click the type of target file you want to export to. Then click the export button and the following screen will be displayed.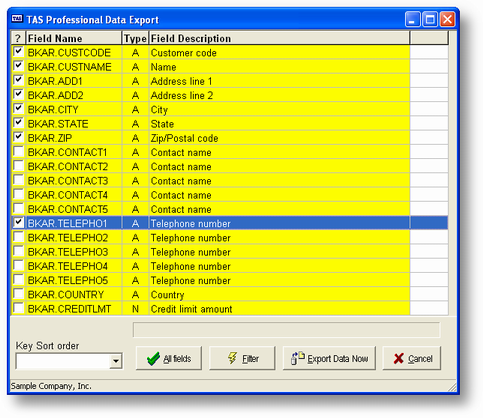 b) After you choose the file the fields within that file are displayed. You may choose all the fields in a file by clicking the All Fields button or moving the cursor to the proper line in the choose list and pressing the space bar. When a field is chosen a check mark appears to the left of the name. To unchoose a field press the space bar key again and it will disappear. The cursor automatically proceeds to the next line when choosing manually.
A maximum of 200 fields may be chosen. If you choose an array field you will also be asked to choose which elements. Each element is treated as a separate field. If you choose all fields by pressing the F3 key only the first element of any array will be displayed.
c) Once you have chosen all the appropriate fields press the ESC key. If there is an Owner defined for this file (the file is protected) you will have to enter the password before you will be allowed to access it.
d) Next you may enter a filter expression. See the discussion of filters for more information.
e) If there are any keys set up for this file the names will be displayed. You can either choose a key or press the ESC key to print in record number order.
f) When you are all done choosing the fields and you are ready to export the data click the Export data Now button.
---
Page url: http://www.cassoftware.com.com/adv7docs/index.html?fl_c_exportfile.htm