You should register! or update your annual support.
Only through your support can we continue to provide high-quality software and support at reasonable prices.
Your Support helps the continued development of TAS Professional powered by CAS and helps us to continue to improve and enhance and support this already powerful set of programming tools.
If you registration is up to date. You will not see this stupid screen.
So please support the developers of TAS Professional powered by CAS and please pay the annual registration fee.
Thanks for your support.
How to register
To register TAS professional powered by CAS or you can call us at 1(928)257-1236. You can also register on our online store at www.cassoftware.com
Our office hours are 9:00AM - 5:00 PM Arizona Time M-F.
Or Email us at support@cassoftware.com
Annual registration and support is $200 per year. This entitles you to one personal runtime and all updates and upgrades to the program for one year to be used by one company. If you need more of these Licence's you can purchase single runtime's for $99 each.
You can purchase an unlimited runtime for $399.00 this will allow you to distribute as many TAS Professional powered by CAS runtime's to your customers as you need this is a one time fee. Support / updates and upgrades are still $200 per year.
After you register
CAS will send you your registration code by email. To register start the TAS Professional IDE click on menu item help -> register. You will see the following screens.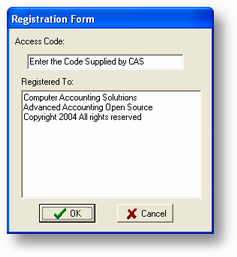 Enter the access code and your company or personal information by using copy and paste from the email we send you.
If you have trouble feel free to email us at support@cassoftware.com and we will help you if needed.
Note: this is your registration code you need to save this incase you have to reinstall TAS Professional.
Thank you in advance for your support.
The TAS Professional powered by CAS development team.
---
Page url: http://www.cassoftware.com/tas/manual/pleaseregister.htm