A price matrix lets you define discount/markup percentages or a set of fixed prices for products; a particular level in the matrix can then be matched to the price level in the customer record so that the appropriate discount/markup can be used when entering a sales order.
A price matrix with a flat discount can also be entered at the Enter/Change Inventory screen. If you are using a percentage discount/markup and assigning a price matrix number, it is strongly advised that you enter the matrix here, as this type of matrix information is available to multiple products. See the section Using a Price Matrix before entering any information with this program.
The Price Matrix screen is illustrated below: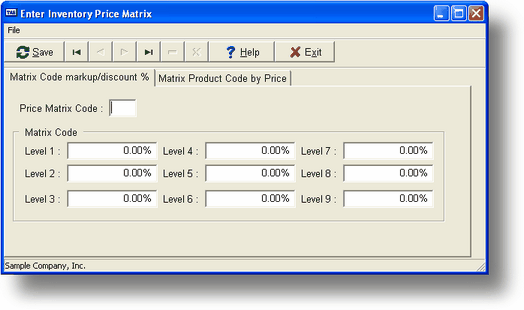 Field Explanations
Price Matrix Code
A three-digit numeric field. Up to 999 different matrices can be specified. The 9 discount/markup levels that you assign for each price matrix apply to any product with that price matrix number.
Product Code
An existing product code that will receive your price matrix assignment. If you do not assign a Price Matrix Code, you will be able to assign fixed price levels that are unique to that product.
Base Price
The price of the Product shown in the Product Code field. This can be modified.
Levels 1 - 9
If you have entered a price matrix code number, you will be able to enter a series of discount/markup percentages. A discount of 10% would be entered as 10, a markup of 10% would be entered as 110 (110% of the base price). If you have entered a product code, you can enter a series of fixed prices associated with that product.
General Program Operation
Price matrix information can be set up on a discount/markup percentage basis or a fixed price product-specific assignment. If you assign a number between 1 and 999 as a price matrix code you can set up to 9 levels of prices to be used by multiple products. If you enter a product code, you can type in up to 9 different fixed price levels. When a customer is assigned a price level in the AR-A, Enter/Chg Customers the level is used to determine the price of the product to that customer.
See the section Using a Price Matrix for more background on using this facility for your company.
---
Page url: http://www.cassoftware.com.com/adv7docs/index.html?ic_h_enterpricematrix.htm