Use this program to get a price list report identified by product code, description, last cost, and profit margin (gross margin) percentage. The options you can specify for the printout are shown on the screen below.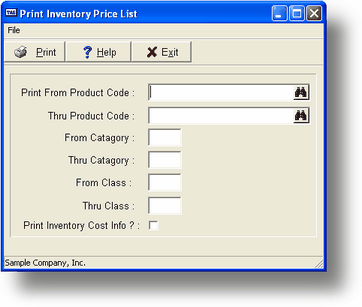 General Program Operation
You may enter ranges for From/Thru Product Codes, From/Thru Category, and/or From/Thru Class. For example, you can limit the printout to HRDW only. If you do not enter limits, the program will print all the inventory items. You can also include actual cost data by entering Y for Print Cost Data? A sample report is provided in Appendix F.
---
Page url: http://www.cassoftware.com.com/adv7docs/index.html?ic_b_printpricelist.htm