Purpose of Program
This program will print a list of each of the outstanding (unpaid) vouchers for a customer. This is similar to AR-M, Unpaid Invoices Report, except that it prints only the vouchers (those entered in AR-B) outstanding. A sample customer statement is provided in Appendix F.
General Program Operation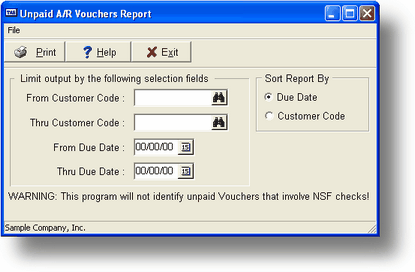 When the program is chosen from the menu, the screen above is displayed. You may enter a range of Customer Codes and/or Voucher Dates to print. If you do not enter limits, the program will print information for all customers.
Depending on which you choose will determine whether the program totals by day or by customer.
After the printing is complete, the program returns you to the main menu.
---
Page url: http://www.cassoftware.com.com/adv7docs/index.html?ar_n_updatevouchersreport.htm